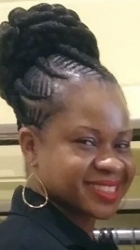 Alyshia Perrin, Principal
The Principal of P.L. Dunbar, Miss Alyshia Perrin, has been educating the students of Bridgeport for the past sixteen years. Her career began in 2002, as an interim teacher at Read School. She taught Language Arts and served as a Special Education Resource teacher during her tenure there. In 2004, Ms. Perrin moved to Blackham School where she taught Language Arts for 5 years. In 2008, Ms. Perrin attained her Masters of Education from the University of New England in Maine and in 2009 received a Degree of Advanced Studies from Sacred Heart University with a concentration in Educational Administration. Ms. Perrin has served as a Site Coordinator for the Lighthouse Program for five years, co-facilitated the New Teacher Academy for year one teachers in the city of Bridgeport in partnership with The Teacher's College at Columbia University, completed the Administrator Aspirant Program and The Leadership Institute. In November of 2010 she was hired as the Assistant Principal at Paul Laurence Dunbar School. After four years, as Assistant Principal, Ms. Perrin became the principal of P. L. Dunbar School. Since taking on this role, Ms. Perrin has sought several opportunities to advance her knowledge and become a more effective school leader. She has served on several district committees, participated in Yancy Principal Forums for four years, participated in CT LEAD for turnaround school principals for three years, participated in the Teacher Leader Fellow Program through Central Connecticut State University and visited Finland Schools, is an active participant in the Literacy Leadership Institute and most recently, began a program through Sacred Heart University to attain her 093 certification for Superintendency.

Ms. Perrin's educational philosophy is grounded in the belief that children deserve the best education possible, "Every Child, Every Chance, Every day".