Welcome to Hall School
Proud members of the Kennedy Center for the Arts:
Turnaround Arts Schools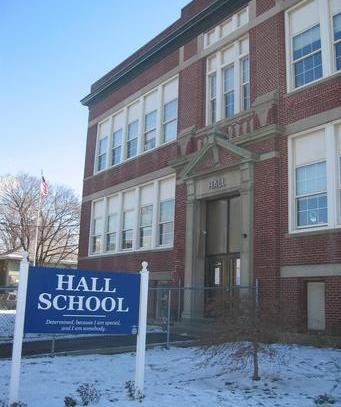 Dr. Carmen McPherson, Interim Principal
290 Clermont Avenue
Bridgeport, CT 06610
Office - (203) 275-3222
Security Office - (203) 275-3233
Nurse - (203) 275-3253
Fax (203) 337-0166
Be informed, Be involved:
Check out our Facebook Page: www.facebook.com/HallSchoolBridgeport
Follow us on Twitter: @HallSchoolBpt
Bloomz App - School Code: CBD75H
Hall School Schedule:
Doors Open: 8:40am
School Begins: 8:50am
Dismissal: 3:10pm
Early Dismissal: 12:50pm
Important Updates and Information:
Welcome Back Hall School Families!
School starts on Monday, August 30th, and we are so excited to welcome all of our students back for a new and exciting school year!
School opens at 8:40am and it is a full school day, with school ending at 3:10pm.
Students will meet on the playground located on the Willow Street side of the school to meet their teachers and line up by class.
Look for the helpers on the playground to guide you!
As a reminder, students should be in uniform and have a mask and a water bottle for the day, as water fountains are not available.
Registration for the Lighthouse After School Program will also take place on Monday and continue throughout the week. Please see Ms. Depeano for more details.
August / September Schedule
August 30th - Students' first day of school, full day
September 6th - No School, Labor Day
September 7th - No School, Rosh Hashanah
September 16th - No School, Yom Kippur
September 29th - 12:50pm Dismissal, No Lighthouse Program
Be sure to follow our Facebook page or get the Bloomz App for school closing or delay information.
Please read the following information from our BPS Psychology Department for helpful information for dealing with the uncertainty of these times:
Hall School Psychology Newsletter on dealing with uncertainty during COVID-19 times.