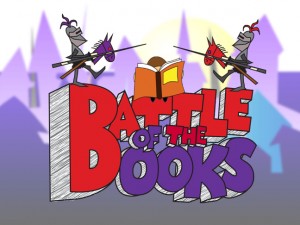 Battle of the Books

During the 2018-19 school year, students in grade 4 and 5 can participate in the Battle of the Books. This is a voluntary program for students who love reading and competition.

In order to participate, students should read 4 books during the summer vacation from the following selection:

PAX by Sara Pennypacker

WISH by Barbara O'Connor

FISH IN A TREE by Lynda Mullaly Hunt

HELLO UNIVERSE by Erin Entrada Kelly

THE WAR THAT SAVED MY LIFE by Kimberly Brubaker Bradley

ABSOLUTELY ALMOST by Lisa Graff

CRENSHAW by Katherine Applegate

BECAUSE OF WINN DIXIE by Kate DiCamillo

A WHOLE NEW BALLGAME by Phil Bildner

ALMOST HOME by Joan Bauer

DIARY OF A WIMPY KID: THE GETAWAY by Jeff Kinney

WONDER by R.J. Palacio

Students will be quizzed on these books and teams will be formed. During the school year, the teams will read the remaining of the 12 books. In the Spring the 4th and 5th grade will compete in a friendly trivia contest and the team with the most correct answers will be Reading Champion!