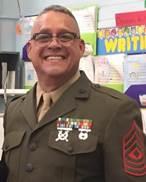 Phone:
Email:
Degrees and Certifications:
First Sergeant Sergio Gallardo

NAVAL SCIENCE INSTRUCTOR

United States Marine Corps, Retired

1stSgt Gallardo is from Brooklyn, NY, and joined the Marine Corps as an Armor Crewman. He served in the 2nd Marine Division, 2nd Tank Battalion, then did two tours as a Drill Instructor at Marine Corps Recruit Depot, Parris Island. Following his tours as a Drill Instructor, he reported to Officer Candidate School to serve as a Sergeant Instructor for three Officer Candidate Courses. He was a Company First Sergeant in Battalion Landing Team 2/2 during UPHOLD DEMOCRACY and then retired from the Marine Corps in Jun 1997 with his last assignment being the Battery First Sergeant for Bravo Battery, First Battalion, 10th Marines. From September 1997 until Jun 2020, he was the Marine Instructor for the MCJROTC Unit at Thomas Jefferson High School in Brooklyn, NY. He retired from teaching at Thomas Jefferson HS, and assumed the duties as a Naval Science Instructor at Bridgeport Military Academy in August 2020. 1stSgt Gallardo teaches Naval Science 1 and is the lead for drill instruction and the Drill and Orientation Teams at BMA.

He can be reached via email at: sgallardo@bridgeportedu.net.